ME.So.T.IS
Moral Enhancement via Socratic AI for Training and Intelligent Self-coaching
ME.So.T.IS conceptual model aims to provide the theoretical framework to empower citizens' moral agency by enhancing ethical decision-making on moral values through Socratic AI methodologies and intelligent moral self-coaching. It is developed on the TPACK (Technological Pedagogical Content Knowledge) framework of educational technology, with an emphasis on the ethical-decision making context and the reevaluation of an individual's moral values.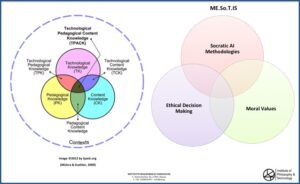 The main objective of ME.SO.T.IS. is to use AI-driven mechanisms for a personalized Socratic dialogue-oriented methodology for citizens' intelligent moral coaching, as well as to enhance citizens' critical thinking skills, and empower ethical decision-making through applied ethics methodology.
In terms of a self-reflective recognition of applied ethical theories such as virtue ethics, contractual ethics, deontological and utilitarian ethical perspectives, recognition and evaluation of an individual's moral values in a multi-divergent and intercultural context is achieved.
Copyright 2022 – Institute of Philosophy & Technology
Work in Progress